Where Art & Style comes Home
Autumn Lane Studios features one of a kind designs inspired by nature. Each pattern is created by hand with the intent to be part of textile collection.
Translating art into stylish products for your home & lifestyle.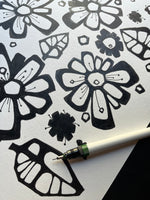 Hand Drawn Ink Designs
Yvette begins her designs and layouts by hand. These abstract botanical drawings and motifs are further developed into patterns for the various textiles and lifestyle products.